Why start an OurKidsCode Club in your community?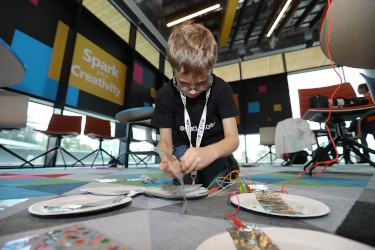 OurKidsCode is a fantastic addition to your local community. It's a great way to build community capital and a fun way to invite families from your local area to meet and come together with a shared interest in supporting their kids learning more about STEAM (Science, Technology, Engineering, Art and Mathematics).
Being involved with OurKidsCode helps parents and kids to develop organisational, team building, problem solving, project management and mentoring skills. Many people join OurKidsCode to be part of a growing network and community with family learning and fun at its core.
The First Step
The first step is to check if there is an OurKidsCode Club running in your county or community. OurKidsCode is currently only available in Broadband Connection Point community venues in some counties. If you're in one of these counties, check this map to see if there is a community centre near you that is designated as a Broadband Connection Point. If there is – contact us and we can help to get you started. If not, please join our mailing list to hear about new counties and venues as we expand. 
Try a Taster Workshop
Before committing to starting an OurKidsCode Club – families can experience OurKidsCode at a 'Taster' Workshop. An OurKidsCode facilitator will come to your venue and run a 2-hour workshop with up to 6 families from the local area. During this Taster Workshop families will make a dance mat using Scratch coding, Makey Makey and paper plates. Practicing your dance moves is optional!
A Taster Workshop is designed for parents and kids to work together as a team. In that workshop each person takes a role including planning the tasks, coding in Scratch, making and decorating the paper plates for the dance mat and ensuring it's all working. The OurKidsCode facilitator will guide families step-by-step through the Taster Workshop. Families just need to bring along a laptop to use on the day. All other materials and equipment will be provided.
At the end of this Taster Workshop, families are invited to continue to meet and start an OurKidsCode Club with the facilitator's support.